For the second week of Rockware Freebies, I'm introducing an image viewer, completely free, which is an amazing time saver for web development, as well as an all around nifty little tool for managing images stored on a PC.
The tool I'm speaking of is none other than the FastStone Image Viewer. As noted on the feature page, this tool has an array of features, such as: image viewing, management, comparison, red-eye removal, emailing, resizing, cropping, retouching and color adjustments. Now, we all know if we're going to attempt any of the later actions on that list, namely,"red-eye removal, resizing, cropping, retouching and color adjustments", we're going to do this in PhotoShop. I would also have to state here, that these image manipulation features in the FastStone Image Viewer, are no where near up to par with PhotoShop and are not the tool's strong points.
However, when it comes to management and viewing, this tool is quite a gem. Here's a quick screenshot of my desktop, with the image viewer open, to a directory full of Van Gogh images: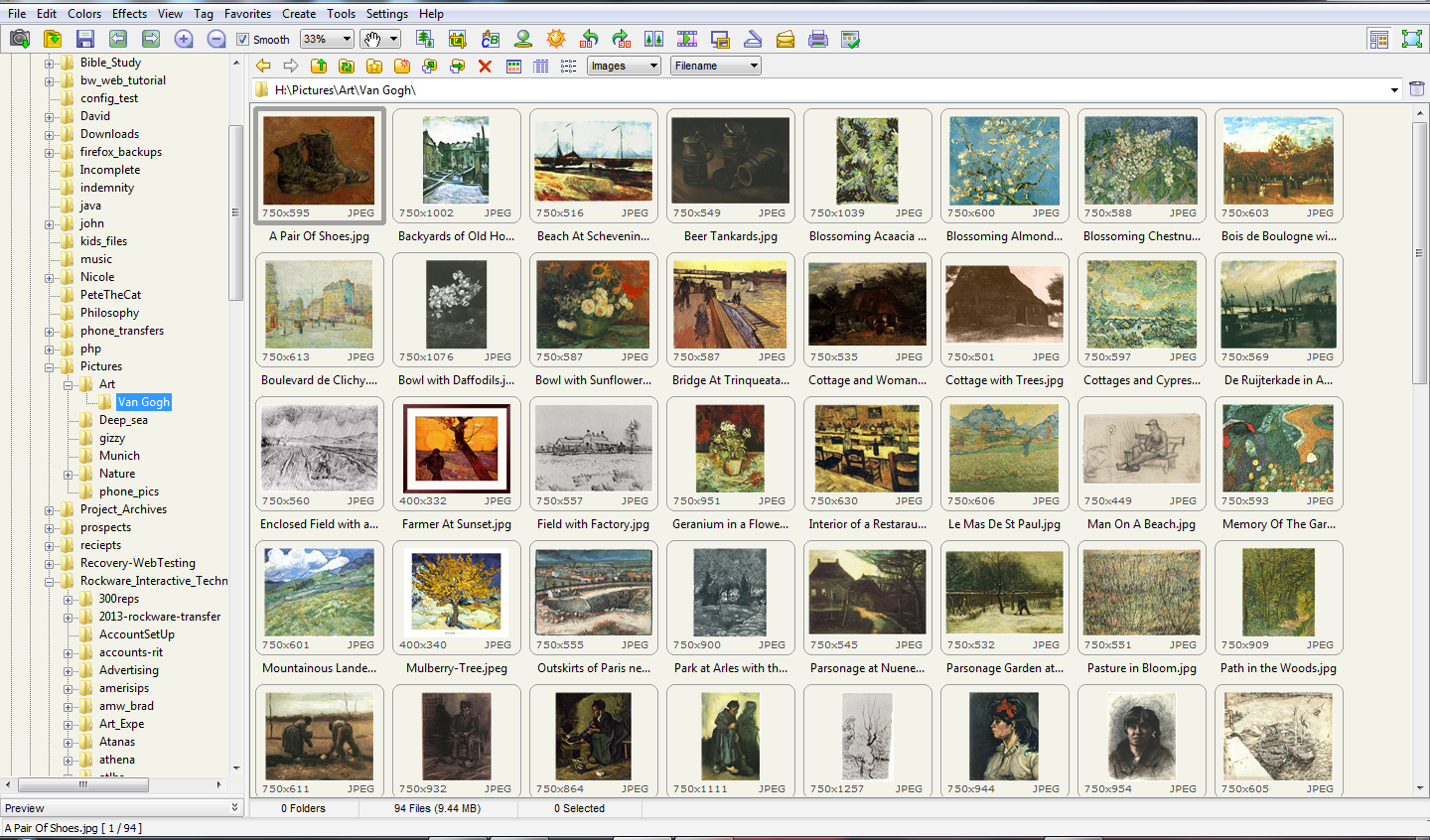 The tool's file manager imitates the Windows Explorer manager closely, as you can see in the screenshot above. Basically, you can browse your entire PC from within this tool, easily opening any one of hundreds (or thousands if you're a crazed geekazoid like myself) of the files within your file system, to view all images within a particular file/directory, at once. This makes management of images for projects, viewing collected images for comparison and organizing images an absolute breeze. In addition, the thumbnail image previews for each image within the given folder you're in, are quite decent, enough to allow comparison before enlargement to some degree, and the size and image type is displayed right on the thumbnail itself. Now, if you happen to have directories of images, within a directory of images you're viewing, you'll see this as the thumbnail for that directory:

You'll see a folder image, with a few small thumbnails of images within that folder, being able to easily and quickly not only recognize all folders containing images, but also to see a small preview of the images, so as to remember where a specific image or group of images is. Bottom line, what I love about this tool, is the fact that I can easily browse through every single file on my PC, within a very smooth and efficient file manager, with the ability to preview all of my images, simply by clicking on a file name in the file manager. This saves me a tremendous amount of time as a developer, and while I love the fact that it's free, I'd gladly pay for it if I had to.
Oh yes, I can't leave this feature out: while viewing the image thumbnail previews, you can double-click the thumbnail, which will open the image in full (or near to) size, allowing you to open or send the image right there, without closing, or even loosing your place in, the tool. For instance, sometimes I'll browse a few directories, looking for a particular type of image; along the way, I'll run into several other images I'd like to keep track of. Well, I can open them in PhotoShop, as I go along, without ever having to loose my place, or shut down the tool. That goes for other options as well, not just for opening the images in a specific program – you can also email them as you go, or save them to a specific file as you go.
If you're a developer, you must have this. There are just no two ways about it, at all. Even if you're not a developer – take a look. It's an amazing tool of pure awesomeness. 😎
Freebie Tool for the Week
Tool Name:                                 FastStone Image Viewer
Version:                                       4.8
Download URL:                          http://www.faststone.org/FSViewerDetail.htm
Image Formats Supported:     

BMP, JPEG, JPEG 2000, animated GIF, PNG, PCX, PSD, EPS, TIFF, WMF, ICO and TGA

Digital Camera Formats:         

CRW, CR2, NEF, PEF, RAF, MRW, ORF, SRF, ARW, SR2, RW2 and DNG

Original Release date:              

November 25, 2004
Features List
True Full Screen viewer with image zoom support and unique fly-out menu panels
Crystal-clear and customizable one-click image magnifier
Powerful image editing tools: Resize/resample, rotate/flip, crop, sharpen/blur, adjust lighting/colors/curves/levels etc.
Eleven re-sampling algorithms to choose from when resizing images
Image color effects: gray scale, sepia, negative, Red/Green/Blue adjustment
Image special effects: annotation, drop shadow, framing, bump map, sketch, oil painting, lens
Draw texts, lines, highlights, rectangles, ovals and callout objects on images
Clone Stamp and Healing Brush
Superior Red-Eye effect removal/reduction with completely natural looking end result
Multi-level Undo/Redo capability
One-touch best fit/actual size image display support
Image management, including tagging capability, with drag-and-drop and Copy To/Move To Folder support
Histogram display with color counter feature
Compare images side-by-side (up to 4 at a time) to easily cull those forgettable shots
Image EXIF metadata support (plus comment editing for JPEGs)
Configurable batch processing to convert/rename large or small collections of images
Slideshow creation with 150+ transition effects and music support (MP3, WMA, WAV…)
Create efficient image attachment(s) for emailing to family and friends
Print images with full page-layout control
Create fully configurable Contact Sheets
Create memorable artistic image montages from your family photos for personalized desktop wallpapers
Acquire images from scanner. Support batch scanning to PDF, TIFF, JPEG and PNG
Versatile screen capture capability
Powerful Save As interface to compare image quality and control generated file size
Run favorite programs with one keystroke from within Image Viewer
Offer portable version of the program which can be run from a removable storage device
Configurable mouse wheel support
Support multiple program skins
Support dual-monitor configurations
Support touch interface (tap, swipe, pinch)
And much more…